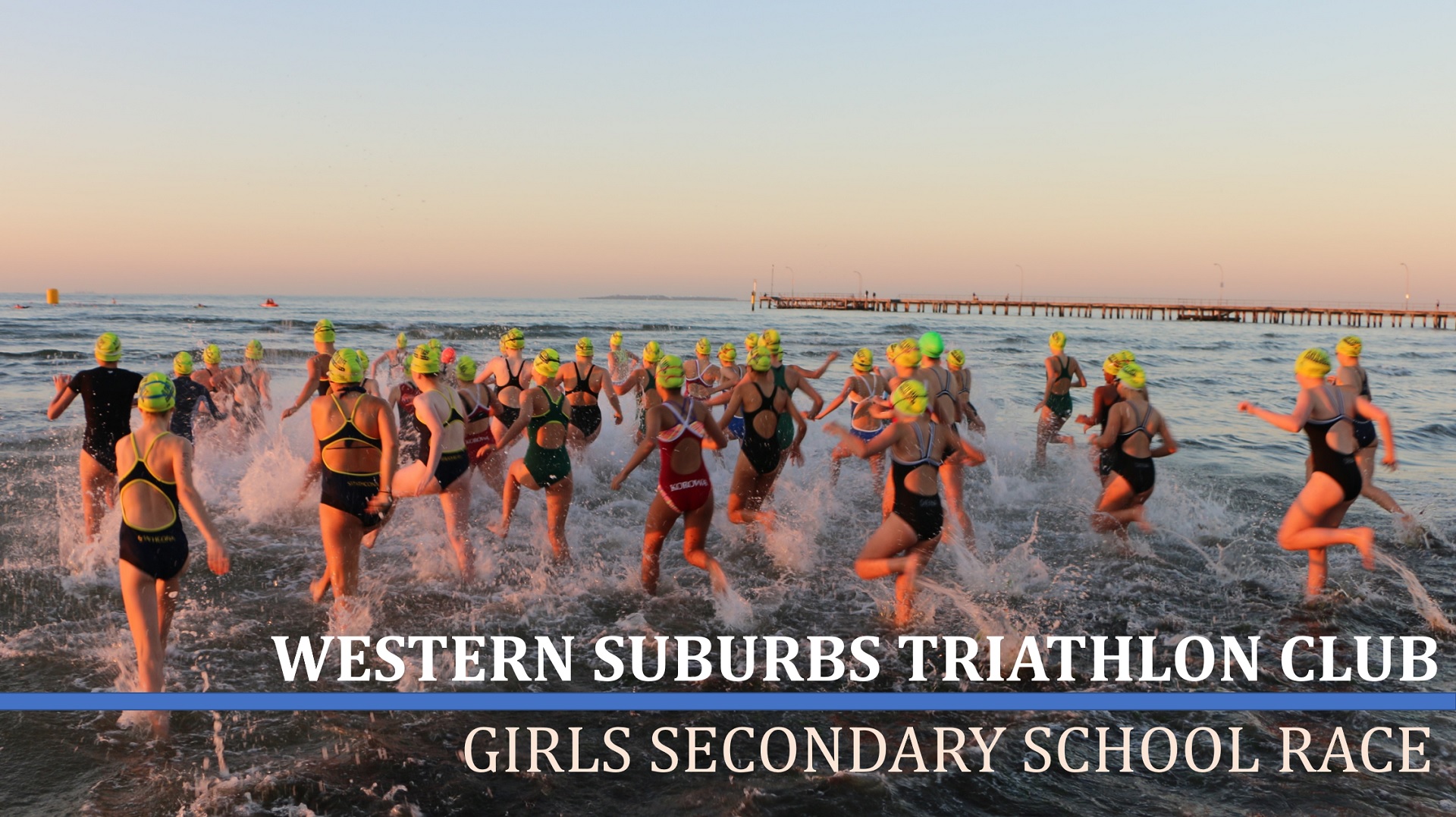 Girls Secondary School (GSS) Triathlon Event
Overview
We are delighted to be providing an opportunity for secondary school aged girls to participate in triathlon. The club prides itself on providing a welcoming and relaxed environment for all abilities to participate in triathlon.
This event provides an opportunity to enter individually or as part of a team (2-3) with friends. Whilst the event will be timed, the primary objective is fun and participation for girls in sport.
Some participants will be experienced and interested in challenging themselves against the clock and others. Whilst the majority of participants will be interested in having fun with their friends and/or challenging themselves to do something they may not have done before. All abilities are welcome and encouraged to enter.
There will be no presentations at the end of the event. All results will be released online within 2 days of the event. If you're a member of Girls Sport Victoria (GSV), your school results and placing etc. will be released by GSV as previously advised.
GSS Start Times
Start times will be different based on whether you are a team member or individual competitor. The exact times for your start will be advised, however, the start of the events will be: First Teams Waves: 07:00am, Individual Waves: 08:00am and Second Teams Waves: 10:00am
Event Types & Distances
This WSTC race offers the following event types and available distances. Remember to review the age limits for each event type for juniors prior to entering the event.
GSS Junior Teams
300m/10km/2km
WSTC Member: $0.00 (U/18: $0.00)
TA Member: $0.00 (U/18: $0.00)
Non-TA: $0.00 (U/18: $0.00)

GSS Intermediate Teams
300m/10km/2km
WSTC Member: $0.00 (U/18: $0.00)
TA Member: $0.00 (U/18: $0.00)
Non-TA: $0.00 (U/18: $0.00)

GSS Senior Teams
300m/10km/2km
WSTC Member: $0.00 (U/18: $0.00)
TA Member: $0.00 (U/18: $0.00)
Non-TA: $0.00 (U/18: $0.00)

GSS Individual Junior
300m/10km/2km
WSTC Member: $0.00 (U/18: $0.00)
TA Member: $0.00 (U/18: $0.00)
Non-TA: $0.00 (U/18: $0.00)

GSS Individual Intermediate
300m/10km/2km
WSTC Member: $0.00 (U/18: $0.00)
TA Member: $0.00 (U/18: $0.00)
Non-TA: $0.00 (U/18: $0.00)

GSS Individual Senior
300m/10km/2km
WSTC Member: $0.00 (U/18: $0.00)
TA Member: $0.00 (U/18: $0.00)
Non-TA: $0.00 (U/18: $0.00)

COVIDSafe Event Settings
Event will proceed under COVIDSafe settings. This means entries are only open to persons who are fully vaccinated or have a medical exemption. Proof of status will be required at race registration on the morning of the event.
Details of the requirements for Public Events to be held in Victoria can be seen at this link for review prior to attending the event. Public Event Settings/Requirements.
COVIDSafe Event Safety Plan
In line with the Department of Health's direction, WSTC will be applying the requirements described in the linked COVID Safety Plan on the day of the event.
GSS 2022 Event Participant Guide
To further support the event information on the website the following link also provides the latest event participant details and notes on any temporary course changes.
GSS 2022 Event Participant Guide
Please don't hesitate to contact us (Jill Stevenson - president@wstc.org.au) if you have any questions or concerns. We are here to help and to make the process as enjoyable as possible for you and your daughter.
Getting to the Event
Getting to the Western Suburbs Triathlon Club is very easy. The club is located in the same building as the Altona Surf Life Saving Club close to the corner of the Esplanade and Pier Street. The attached café is usually open pretty early so a pre-race coffee is very much an option. p>
To get to the Western Suburbs Triathlon Club event location you can click the following link link. This link also describes the standard courses for both Duathlon and Triathlon events.
Race Briefing
Race briefings for each event generally start 15 minutes prior to the advertised commencement times. The Race Director will provide details as to the course and any changes/alterations made due to conditions as well as general information on safety throughout the event. Please ensure you are in close proximity to the Finish area at this time.
Swim to Transition Briefing Video
Prior to the event please review the following video on the Swim & Transition for WSTC Triathlon events. This will provide information in addition to the course information on the website.
Bike & Run Briefing Video
Bike to Run course notes can be found at the linke below for WSTC Triathlon Events. This is to be used in addition to the course information on the website.
Event Volunteers
Volunteers to assist in WSTC events are always appreciated and help the club keep these events safe and well organised. If you would like to assist in volunteering (and as part of your competition membership) you can register at the following link for this event.
Athlete Guide
You can find and use the following Athletes Guide to assist you in preparing for the race and details about the course.
FAQ's & Duathlon/Triathlon Race Rules
For Frequently Asked Questions about Triathlons please click on the following link. You can also view the rules to be abided by while competing in triathlons on the rules link.
Event Special Notes
The Altona Foreshore is engaging in many infrastructure projects at this time and as a result there may be events that will require and alteration in course i.e. course or lap changes with the possibility of start/finish location changes. These changes will be notified as the event gets closer and communicated both via our FaceBook and website.
Event Gallery Link
For each event where possible, photographs are taken at various points around the course. WSTC have a limited gallery section where all photos are uploaded shortly after the event. From these galleries you can download any of the photos for free!
You can scroll through the full galleries at any time and download the high-resolution images via the icons. You can get to the Event Gallery by clicking this link. Additionally, photos where possible will also be made available on the WSTC FaceBook page.
Generally, all photos are up in the gallery within 48 hours of the event. Also keep an eye out on our Facebook Page where highlighted photos are placed.
Event Results
Event Results are published to the WSCT website (within the event information) generally the afternoon of the event. In the event the results will be a bit later this will be communicated (every so often the Timing Guy and Web Guy have busy Sunday afternoons).