Triathlon Victoria Duathlon & Kids Race - Race 3
The annual Victorian Duathlon Series consists of three races, each run by a different host club in collaboration with Triathlon Victoria. A Duathlon is an important winter event within the Victorian multisport calendar as it provides athletes with the opportunity to compete during the winter months. Duathlon events involve running, cycling and running around a closed road circuit.

Triathlon Victoria believes strongly in inclusion and that multisport provides something for everyone, no matter their age, gender, cultural background or ability. Behind every participant lies a story and for them duathlon is about celebrating both the start and finish lines. With the philosophy of inclusion and acknowledgement that every individual is different we work to increase participation in the sport through affiliated clubs, coaches and race directors. The main focus of the Duathlon Series is to provide local residents, primary and high schools and sporting clubs the opportunity to participate in a local community organised event and to promote health and fitness.

This event also includes the Kids Duathlon in which there are multiple distance races. Details can be viewed on the link and flyer which provides full details and costs.

RACE DISTANCES (RUN/BIKE/RUN)
Triathlon Victoria Sprint: 5km/18.75km/3km
Triathlon Victoria Dash: 2km/12.5km/1km
Kids 7-9 Years: 300m/2.5km/300m
Kids 10-12 Years: 750m/5km/750m

RACE START TIMES
Adults Races: Sprint & Dash Commence at 8am
Kids Races: 7-9 Years & 10-12 Years Commence from 10am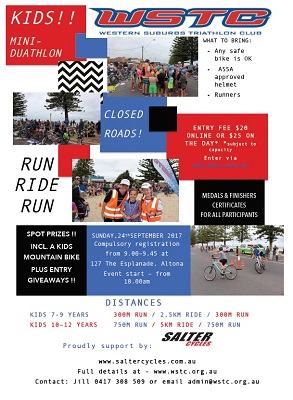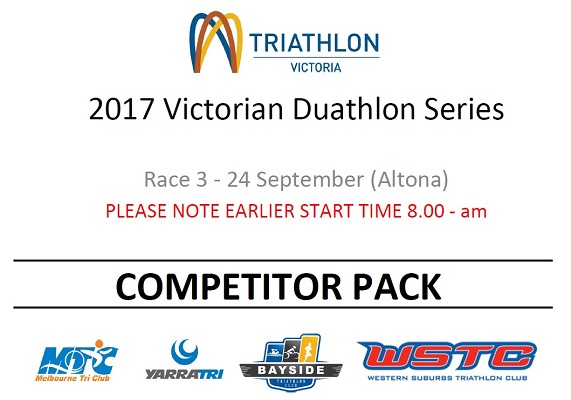 ADULT RACE CLOSURE DEADLINE - ENTRIES CLOSE MIDNIGHT 21/09/2017
- To guarantee your spot in the event click on the 'Register' button below

KIDS RACE CLOSURE DEADLINE - ENTRIES CLOSE SATRUDAY 23/09/2017 at 5pm
- To claim your spot in the kids event click on the link to enter
Kids Race Entry

The event is a community event, with all the proceeds from the event going back into the club and the sport of triathlon.

Note: The map for this event is provided as a guide only as Triathlon Victoria distances are slightly different to the normal WSTC events. A full competitor pack will be available which will provide details on the courses for each event.
Registration commences at 6:15am for all registered competitors. Walk-ins on the day can also register and pay during this time to compete in the day's event – however, these on the day entries maybe limited based on the number of competitors pre-registering. To ensure you avoid disappointment ensure you register online via the link.